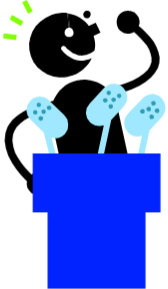 If you want to grow your business, one ideal way I have found to do that is through speaking engagements. If you have a niche area of expertise and want to reach an audience — in a group setting — that is your ideal client base gathering them all in one room to talk with them is a great way to make the most of your time, money and efforts.
When you're sending in a speaking request you will be asked to supply a bio to the group for whom you will be speaking. Do you have a business bio at the ready? If not, here is information you will want to add to it:
Keep your audience in mind. What portion of your area of expertise do you want to highlight? Make that prominent in the bio you submit. If you're being asked to speak at a conference, it might make sense to inquire as to the make up of the audience itself — its interest, business or trade and the conference theme.
Look at LinkedIn profiles of those in your profession and see how they present themselves. Use their profiles as inspiration for your bio.
Brainstorm on your top three qualifications and what inspired you to hone in on those qualifications. In other words, what sets you apart from the competition. What makes you the most qualified person to speak on the topic of XYZ Widgets at this conference.
Keep it short. While you don't want to short change yourself when attempting to sell yourself on a speaking engagement, you don't want to send a 5,000 word manifesto of your experience since grade school. Touch on the most salient points and those points which, again, highlight your qualifications for speaking to this particular audience.
Take time today to write your business bio — you never know when you'll need it!